I posted my grocery list on the foodblog, now that I have a scanner I'll just scan it for all you diehard fans out there (Oh you're out there, I get the emails to prove it!!!LOL)
Also wanted to post these pics, just to make you giggle, and because I used up my monthly limit over at FlickR...ooooops!!
This first one is of Bill and I, obviously at our wedding!!LOL The only reason Bill is smiling is because my other hand was behind him...pinching his bum!!!LOL
Yes, that would explain my sheer enthusiasim in the photo...oh and possibly the fact that I was 6mo pregnant and about to cut into a CAKE!!!!LOL!!!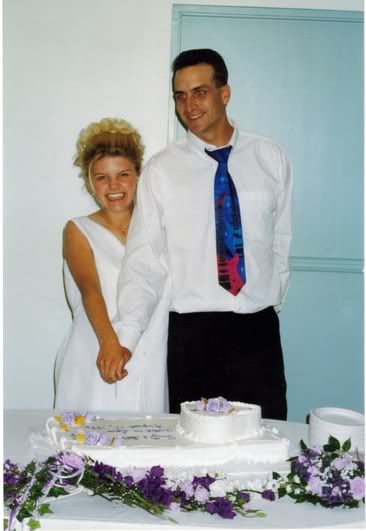 Okay, that is it for now...I will bore you all to tears with more pics at a later time....until the joy of having a scanner weras off a little!!ROFL!!!
Have a blessed Friday!!
~Penny