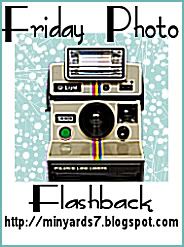 Ok, so I am cheating a wee bit. I am going to post two pics, I could not decided which one was worthy of today's carnival, so I decided on both!!
This one is mainly just for a good laugh because any Mama who is around my age (30ish) will be able to relate. This pic was taken October 1991 and I was in grade 8 and had just turned 13. Laugh and remember away!!!
Yup, I was so totally wicked!!!lol and you can bet that my jeans were pinned at the ankle (the true 'skinny jean' ) and I was wearing an Esprit tee with rolled up sleeves. (and enough hairspray to cement a new sidewalk)and I am certain that either NKOTB or Debbie Gibson would have been playing on cassette in my bright yellow sony walkman!!(although there is a small chance that it may have been Poison...I did begin listening to them near that age....lol) Ah yes, the days of yester-year!!
Ok, now onto pic number two. One to which my family will remember oh-so-well!!!
Bwhahahaha!!
Haha...okay here's the story with this one. this was taken near the end of November 1997. It was Alex's first birthday. I was 19 and Bill was 24. I was VERY particular about what foods Alex could eat and always made sure they were nutritious and healthy and homemade.(although I did buy jarred food *shudder*)Anyways...I decided that I would bke and make Alex's cake from scratch using wholesome ingredients and I used the recipe found in the What to Expect the First year book (*shudders again at those books...The What to Expect series...ick!) for Carrot Cake. Except, I used pure apple juice instead of apple juice concentrate...uh-huh...AND I am fairly certain I messed up with the baking soda and powder ratio and quite possibly the flour...heck, I just
MESSED IT UP!!!!

It tasted awful!! In this picture i was looking at Bill thinking in my head "Gimme a break, it's NOT that bad stop being so dramatic!" and Bill is desperately trying to find something to safely dispose of his mouthful of cake and poor Alex...awww, just look at that poor babes face!! Sheer disgust and anguish over his cake. So, yeah, that was my first attempt. Cut me some slack, I was trying!!!!ROFL!!!
Have an awesomely blessed weekend!!