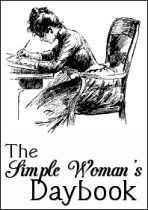 FOR TODAY...
Outside My Window...So far, it's sunny! Although it's supposed to get cloudy and rain soon!
I am thinking... about how I should really be finishing up laundry and packing!
I am thankful for...friends and family who are helping to make our holiday happen
From the kitchen...for dinner..teryaki porkchops, rice and steamed veggies
I am wearing...jean capris, pink t-short and a zip hoodie
I am creating... some nifty ways of packing clothing!
I am going...to get all the packing done, really I am!
I am reading...nothing at the moment, but I plan on bringing books with me to read on the drive
I am hoping... that we can fit everything in the van!lol
I am hearing... a magic show taking place downstairs
Around the house... total chaos! The kids are hyped, the house is a mess, coolers and 'stuff' are everywhere!
One of my favorite things... besides the KFC that I am craving (oh I know, isn't that gross?!?!), the vacuum sealing packing bags that I am using to pack the clothing in...major space saving!
A Few Plans For The Rest Of The Week:
-finish packing
-get last minute stuff done
-load up the van
-finish making snacks to eat(got the 'dry' ones done, just need to get the fresh fruit and veggies done.
-try to keep my sanity!
Here is picture thought I am sharing...
Nothing yet!

Now, back to work!!!!
Have a blessed Monday!
Penny